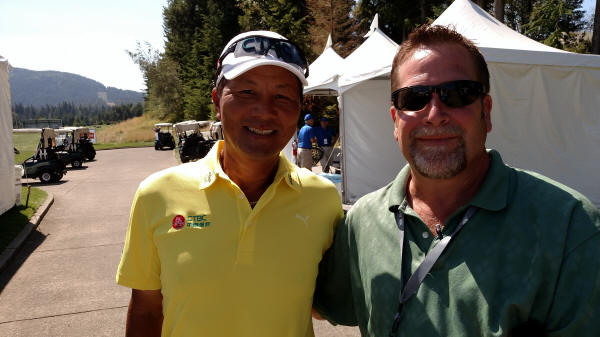 Voice of Kitsap County Sports
About Kevin Mac
(Alumni - North Mason H.S.)

Email: kmac@ispnsports.com
In 2016, for the 1st time in 11 seasons local broadcasting talent Kevin Mac will not return to the Mic for the Kitsap BlueJackets. Known as "The Voice" K-Mac, enters his 16th Season working the Olympic College Rangers Athletic programs.
As a Kitsap County native and North Mason High School alumni, graduating in 1980. Following his graduation K-Mac attended broadcasting school in Seattle in 1989-90, starting his broadcasting career working Metro League football games on KKFX Radio (AM1250).
In 2001-02, K-Mac was a Co-host on Coaches Corner on KITZ (AM 1400).
From 2002-2003 Kevin moved on for 2 seasons to do NAIA play by Play for the Evergreen State Geoducks athletic programs on KLAY Radio (AM 1180) and KMAS (AM 1030). During that time in 2002, K-Mac started as the public address announcer for OC baseball.

In 2005 K-Mac was hired as "The Voice" for Kitsap BlueJackets Baseball club, member of the West Coast League and was "The Voice" for 11th seasons.
In 2008 K-Mac started ISPN Sports, an Internet Sports Broadcasting Network airing the Kitsap BlueJackets baseball (2008-14), ISPN Currently still airs Bremerton Knights Basketball also Olympic, Klahowya and Central Kitsap High School Football proagrams.
Since 2013 ISPN has expanded coverage to Pro Boxing and Professional Golf. The highlight of K-Mac's carreer was working as USGA Media at the 2015 US Open at Chambers Bay. ISPN Sports also brings coverage of the Web.com Tour, LPGA and PGA Tour Events
Available 24 hours a day 7 days a week.... www.ispnsports.com